St Monica's OSHC Oakey
Coordinator: Lauren Pearce
Phone: 0408 650 695 or 0408 126 674
Email: OAKcare@tckc.qld.edu.au
OPERATING HOURS:
| | |
| --- | --- |
| Before School Care | 6:30 to 8:30am |
| After School Care | 3:00 to 6:00pm |
| Pupil Free Days  | 6:30 to 6:00pm (times may vary) |
| Vacation Care | 6:30 to 6:00pm (times may vary) |
Click here for Direct Debit form
75 Lorrimer Street, Oakey Qld 4401
PLEASE CLICK HERE TO ENROL IN THE ST MONICA'S OSHC OAKEY SERVICE
Please note that enrolment applications can take upwards of a week to be processed, allowing bookings to be made. The Coordinator will be in contact with you following submission regarding the next steps in the enrolment process.
Latest News
School Based Apprenticeship Employer Thank you Breakfast
19 Oct 2023
From left: Chelsea Grunberger, Allie Ison, Georgia Muir and Donna Stahlhut (standing) from TCKC attended the TCSO School Based Apprenticeship Employer Thank you Breakfast. 
Toowoomba Jobs, Careers and Skills expo
13 Oct 2023
Ashley Hunter and Georgie Beazley attended the 2023 Toowoomba Jobs, Careers and Skills expo today at the Goods Shed, encouraging people to consider TCKC as a future option for a career.
School Based Traineeships with TCKC
18 Aug 2023
Left to right: Ashley Hunter (TCKC HR advisor), Kallen Gierke (New trainee)
Kallen Gierke has recently signed up to complete CHC30121 – Certificate III in Early Childhood Education and Care, school-based traineeship with TCKC. Congratulations Kallen! 
Child Care Subsidy has increased
13 Jul 2023
The Child Care Subsidy (CCS) has increased. Most families using early childhood education and care (ECEC) will get more subsidy and more families are also now eligible for CCS.
The growing popularity of TCKC
14 Apr 2023
Toowoomba Catholic Kindergarten and Care (TCKC) services are distinctive places of faith and learning where children play, interact, explore and experience the world in all its goodness and potential.
Since the launch of TCKC in 2020 the services have grown to include 15 Outside School Hours Care (OSHC) and three Kindergartens in the Toowoomba Diocese. Over 3,400 children have enrolled in the program since 2020, with over 2,200 students currently attending one of the TCKC services.
These services are grounded in a fundamental belief that each one of us is created in the image and likeness of God. This belief accords everyone an equal and inherent dignity, unlimited potential and an entitlement to a full and flourishing life.
The Kindergartens are in Roma and Warwick with the newest service recently opening in Pittsworth. They feature beautiful natural environments that welcome children and their families to be part of the learning journey.
Children can begin their learning adventure in an environment nurtured by a Catholic ethos that provides endless learning possibilities. The program develops each child's interest in learning through real-life and playful investigations in both indoor and outdoor settings exposing them to a whole new world of discovery.
The OSHC services provide the opportunity for children to grow and develop their social skills in a leisure based environment nurtured by a Catholic ethos. The services offer a combination of before school, after school, pupil free days and vacation care led by a team of qualified educators.
The educators work with all children to create fun and recreational experiences so that a child's wellbeing, learning and personal development are a priority. The services provide a variety of indoor and outdoor activities to support the diverse interests of all children. 
Donna Stahlhut, Senior Leader: Kindergartens and Care at TCKC said, "Children learn best in a safe and vibrant environment where they experience a strong sense of belonging and wellbeing. Our educators provide play based learning to enable the children to learn and make sense of the world through 'hands on' and interactive experiences."
"We are grateful that parents have entrusted us with the assisting with the educational responsibilities of their children. It is a privilege for staff to share this partnership with parents," said Donna.
"The growth of our services means that our educators are making a big difference in the life of so many children. Our educational programs help children learn about themselves as people by creating, experimenting, predicting, imagining, achieving and investigating."
These programs seek to develop confident, accomplished and intelligent children who have a positive self-esteem, motivation to learn and a positive disposition towards others," said Donna.
Pittsworth Kindergarten - Educator Faye Shayler with her students
Approved learning frameworks update 2022
23 Feb 2023
Version 2 of the national approved learning frameworks are now approved for use under the National Quality Framework.
Rostering has been revolutionised for TCKC
30 Aug 2022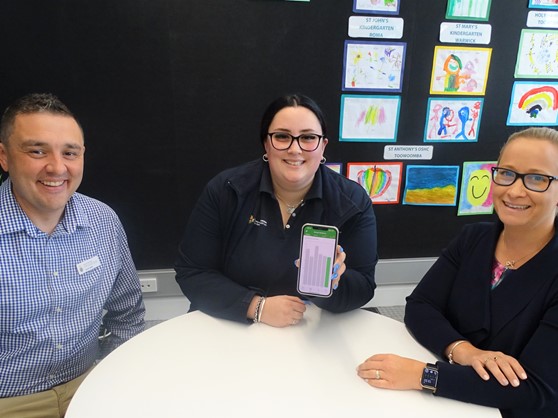 The recent roll out of a new app called RosterElf is already making life easier for those working in Toowoomba Catholic Kindergartens and Care (TCKC).
 
The roster management app allows staff at TCKC to create rosters, swap shifts and track timesheeting in real time via a smartphone.
 
It makes swapping shifts so much simpler and empowers staff to manage their own shift swaps but also gives managers full control of the process, making it easier to fill a roster.
 
Manager of TCKC, Aaron Wells, has seen many advantages for staff using this new technology.
 
"We are truly valuing our staff as they get more opportunities to take additional shifts if they are available and to capitalise on their flexible work arrangements with the shift swap ability," said Mr Wells.
 
"It also allows staff to clock in and out conveniently from their smartphone, allowing for more accurate time sheeting for both the staff and our payroll department."
 
"Coordinators lives are made easier too as they can see staff availability through the app, which previously had to be done via multiple emails and phone calls," said Mr Wells.
 
"This has revolutionised how we do things making it much easier to manage the 86 casual staff that work in our kindergartens and Outside School Hour Care (OSHC) programs."
"We are extremely proud of how our workforce has embraced this innovative approach.
It has provided them so many efficiencies," Mr Wells said.
"We couldn't have achieved these outcomes without the assistance from Toowoomba Catholic Schools (TCS) Strategy and Innovation, Finance,  Information Services and Employee Services teams."
The feedback from the Coordinators has been amazing, with rostering taking five minutes instead of being a task that took at least an hour.
 
Taylor McDonald, the OSHC coordinator at St Saviour's Primary School Toowoomba, said that this technology has been a real game changer for them.
 
"This new technology has helped me be more productive as now I can save roster templates that can be uploaded and easily edited if need be," said Ms McDonald.
 
"This saves so much time as we no longer have to write up a brand new roster every week."
 
"Also completing staff timesheets is now a five minute job instead of a long manual process," Ms McDonald said.
 
"It has assisted staff to access their rosters quickly and easily and makes it easier from them to log in and out for their shifts."
 
"RosterElf is very easy to use. We were well supported as we began implementation and staff were provided with many training sessions," said Ms McDonald.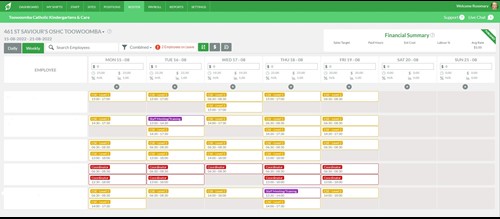 An example of RosterElf in action.
COVID-19 Information
12 Jan 2022
Covid – announcements from the department can be tracked on the DESE website 
Please keep your children at home if they are feeling sick and get them tested.